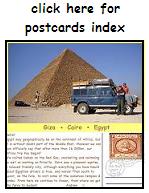 Click on the links below for news & some pics from each section of our trip. More favourite pictures in the photo galleries.

* Apologies to the casual reader if some sections are a bit long-winded and detailed, but much info is mentioned for the benefit of future overlanders travelling similar routes...

OVERLANDERS: for a summary of costs, accomodation, GPS co-ords etc from each country, visit my "trip facts" page.