Middle East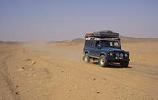 North Africa (Egypt, Sudan, Ethiopia)

NOTE to other overlanders: All the important stuff summarised on my "Trip_Facts" sheet

EGYPT
From the ferry, we headed directly for Cairo, where Jaye had to apply for a new passport. After 1-2hrs sleep on the ferry, we drove a long day through the Sinai desert, arriving in Cairo in the night. Cairo is notorious as the craziest city with the worst driving on the trip. We were not dissapointed!! The driving is something to experience!!! We found ourselves in a nice hostel with a view over a mad roundabout. We would sit there in the evenings and enjoy the chaos!!!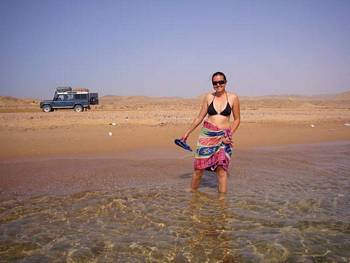 From there we backtracked to the Sinai peninsula, and to Dahab, the diving paradise on the Red Sea. What a fantastic place to put our feet up. Actually I spent most of the time working on the car, getting ready for our trip through the desert in Egypt and Sudan. The temperature was reaching 40°C by this stage, so work was only in the mornings and evenings. During the day we swam and relaxed and read. Before we knew it, 9days had passed.

The Australian embassy managed to send Jaye's application to London, produce a new passport and send it back to Cairo in FIVE DAYS!!! Please note South Africa and your FOUR PITIFULL MONTHS!!!
After returning to Cairo (somewhat reluctantly after Dahab), we applied for our Sudanese visa. This visa is dreaded by all overlanders. In every other country we have heard of, you are often turned away after 2-3months! In Cairo we were issued the visa within the HOUR!! The key to this seems to be obtaining a "letter of introduction "from your own embassy in Cairo to the Sudan Embassy.
We also got our Ethiopia visa within a few hours. After a short visit to the Pyramids, we were on our way south toward Luxor.
We had heard that all tourists are put into convoys when heading to or from Luxor. It seems that after the terrorist attacks in '98, the Egypt government promised to enforce these convoys to "protect tourists". It appears that there is no record of any attacks on tourists on the roads, but these convoys are their visible way of doing something about tourism.
As we left Cairo in the later afternoon, the police at the checkpoints seemed a bit confused about what to do with us, so after a short delay and some talk of convoys, they would let us go. We also found that instead of saying we were going to Luxor, we would often mention an intermediate destination which would throw them off slightly. Between Cairo and Aswan we passed over 25 of these checkpoints!!! We later found that each checkpoint would radio ahead that we were coming, and if we didn't turn up, they were then supposed to go looking for us!!
I don't know what happened when we pulled off the road in the desert to sleep the night behind some distant dunes...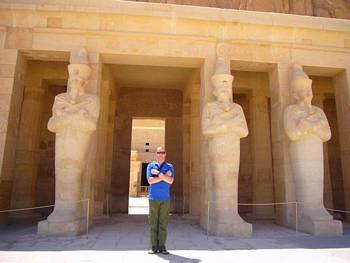 By the time we reached the wonderfull campsite of Rezeiky in Luxor, we had seem too many ruins to spend the day wandering around temples in the 38°C heat. So instead we picked one, then spent 2 days relaxing by the pool, and under the trees... The temple we visited was Hatshepsut. So often we wander ruins and wonder - what did it actually look like? Well this temple is completely re-contructed from fragments, so is very interesting.
My father made an interesting observation to me: we always assume that all these ruins are old and from the same era. However the people who built all the temples in Luxor used to visit Gisa and marvel at the amazing 1000-year old pyramids!!
And so off to Aswan, final staging post for the dreaded ferry to Sudan, across Lake Nasser (the Aswan Dam). In Aswan the temperatures were again higher, reaching into the 40's. We spent our 2 days there, mostly in the swimming pool of the expensive Isus hotel. Our daily expenses were:
- US$4.50 (camping)
- US$11.00 (swimming)
The cargo barge for the ferry had only enough space for 1-2 cars, so with the 3 dutch cars we paid for a "private barge" - paying for 70% of the barge, but only using 30%. But that is how it goes. Tourists pay for everything. The rest of the space was piled high with huge bags and boxes of stuff being taken into Sudan. We arrived at the port at 9am, and held our place on deck, sweating, until 5pm when we finally left & the sun sank low... On board the overcrowded ferry we were lucky to be a group to keep a place. Otherwise the moment you moved somebody would take your little bit of space. The toilets we disgusting, until the girls discovered they could use the 1st class toilets upstairs. All in all, the trip was worth dreading, but what an experience.
SUDAN
At 6am we awoke on the ferry to the sight of the the temple of Abu Simbel, the southernmost town in Egypt. Before 11am we reached Wadi Halfa. Actually it was nothing more than a jetty and a track leading away. We were then kept on board the ferry for about 3 hrs for no apparent reason (welcome to Africa!). Finally we were away, got to the immigration building, had our passports stamped and paid too much to get to town.
Wadi Halfa was made out as a real dump of a place to wait the 2 days until our cars arrived. Perhaps we were happy to be off the stinking ferry, but our fleabag hotel was heaven: Cool bucket showers, beds in the yard under the stars, and a bench outside to watch the world go by. Much of it in old series Landrovers! We sat outside and absorbed the atmosphere. People stopped and talked. Nobody tried to sell us anything. People just wanted to be friendly! After the constant touting of Egypt we loved the relaxed atmosphere of Sudan.

Finally after 2 days waiting, the barges had been unloaded, and our cars could roll off. It was 7pm on Thursday night when we arrived at the gate. This is "Friday night" in the Muslim world. Everybody had gone home. So our assistant took me to the customs official's house. There we were invited in for a cold drink, after which he returned with us to the deserted port to clear our cars. Can you imagine this happening in any other country?
As much as we had enjoyed Wadi Halfa, we were ready to leave. Within minutes of driving, we were in remote rocky desert, and made camp under the stars. There is nothing to compare with free camping in the desert, utter silence, broken only by sounds of the blood rushing in your head!! We stood on a hot rock in the warm desert night and showered from a bucket. This is what the trip was all about.

2 more days of desert driving followed. We followed a rough track that alternated from loose rocks to soft dust, riverbeds to open stretches of desert sand. We hoped it was not illegal to smuggle desert dust - we were hiding it everywhere: on our clothes, in our hair, and in everything inside our car. We passed through numerous small Nubian villages, and every one had one or more small shelters with huge jars of cold water for travellers. The jars have porous sections that seep water to cool the jars by evaporation.

We arrived at last at the large town of Dongola, the end of the hard track, after crossing the Nile by ferry - a crossing we shared with 3 other cars, 4 donkeys, 2 camels and a herd of goats. From here the road improved and a day later we arrived in Khartoum, the capital of Sudan.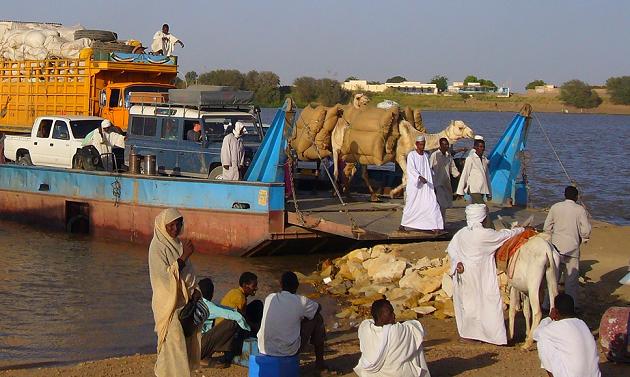 The Blue Nile Sailing Club located on the Nile, in central Khartoum was a great place from which to explore Khartoum. Nearby we viewed the confluence of the White and Blue Nile rivers. Jaye also applied for her Kenyan visa (I don't need one!!). From Khartoum we made a day trip North to the ancient royal pyramids of Meroe, lying abandoned in the desert, half covered by sand.

By now we had had enough of the temperatures topping out at 47°C and headed south for the border and cooler temperatures...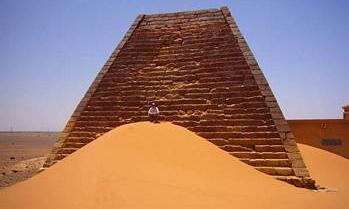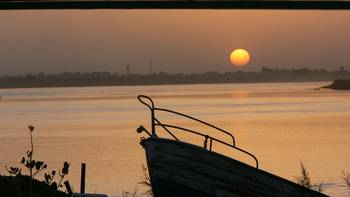 ---
ETHIOPIA
What can I say about this country... so many good things and so many bad! Firsly let me ask - what do you know about Ethiopia?

The majority of the country looks a lot like this: green, cultivated & populated... People seem to be living as they should - farming livestock and agriculture. However EVERYWHERE you go you will see endless signs of Western Aid Agencies: USaid, WorldVision, World Food Program, Save the Children, and about every NGO starting with UN you can imagine. Ethiopia's droughts in the 70's and 80's were so well publicised that these food programmes are still heavily supported even today. And WHAT DO THEY DO NOW???? Aid agencies seem to have become self-serving, and mostly appear to be unneccesary now.
They continue to destroy the attitude of the Ethiopian people. I have never experienced anything like the begging here. At the first glimpse of our car, children and young adult come running, tripping, pushing others out of the way to get a handout: "FARANJI!", "PEN!", "GIVE ME!", "MONEY!", sometimes "T-SHIRT". These are not poor or starving, simply opportunists created by decades of (mis-directed?) aid or well-meaning westerners thinking that giving a child sweets, money or a pen will help them.

At times we were positively surrounded and attacked by people demanding things. They seem totally unable to comprehend why we would not give them something.
Often children throw stones when we didn't give them anything!! It is unfortunate that much of this behaviour stems from people trying to do some good. Most notably the recent trend to take pens instead of sweets. However giving anybody something for nothing will only create a handout culture, and not really be of any benefit. I firmly believe the best course of action is to GIVE NOTHING. If you really want to help - make a proper donation to a local organisation.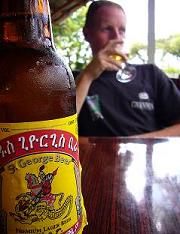 Now that my rant is finished, I can tell you about one of the most enjoyable countries that we visited. From the moment we arrived we loved Ethiopia. First were the cool hills after arriving from Sudan. Next the cheap, cold beers, and we loved the Shiro & Injera - something of a national dish: Injera is a HUGE pancake, the consistency of a bathmat (YUMM) - and Shiro is a spicy bean dish.
I didn't know that Ethiopia has it's own written language - Amharic. The tourist board advertise "13 months of sunshine". That seems clever until you find out that they have their own calender - with 13 months!! They also say - "Feel 7 years younger in our country" - The year is 1999, and their millenium takes place in September (party animals note!). We spent a few days relaxing by the Lakeside of Bahir Dar, enjoying the cheap prices of food and fresh juices. Then the sightseeing began. We also encountered the first of the terrible Ethiopian roads. Lalibela's famous rock churches were interesting but overpriced considering the price had recently suddenly doubled to US$22.
Awash park was Jaye's first African wildlife park. It was a very gradual introduction to the safari. I read my book as Jaye took 80 photos of Oryx. Later we saw another Oryx... Most exciting was returing to the car after a walk to a waterfall to find Priscilla had made some friends...

Addis Ababa was the capital city we planned not to visit. However Jaye's friend Kirsten had changed her plans and now met us there instead of Nairobi. It was just as well - I had to replace the water pump there.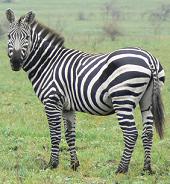 Then we headed South. Our first visit was Nechisar N.P. which is almost unvisited. On our first day, there was only one other car in the park! However the 3hr drive into the park is the worst piece of road we had encountered on the entire trip. The park is now mainly filled with Zebra & the rare Swain's Hartebeest. Until 1980 there were abundant Lion, Leopard, Elephant & Rhino. Amazingly a local tribe moved and eradicated them all in a few years!!!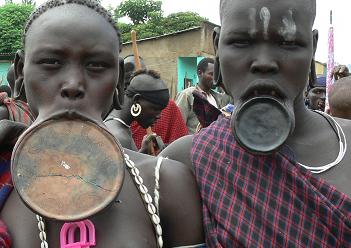 In the South-West of Ethiopia lies the Lower Omo Valley, known locally as the "Southern Tribes & Nationalities Region". This was undoubtedly our highlight of the country. There are a large number of local tribes living in close proximity in this valley. They are all recogniseable by their unique dress, including the famous Mursi Lip stretchers and the Hamer women wearing a layer of red mud.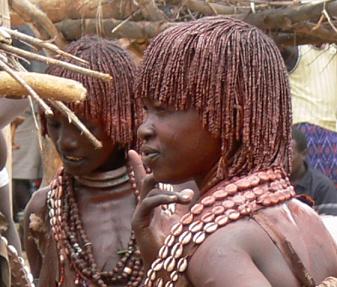 The region is almost unspoilt by western influences, and you can visit whole villages where the only western thing you will see is a large cooking pot. Many of the tribespeople are as curious about us as we are of them. This is a small section of unspoilt Africa. My biggest concern is that this very fact will lead to its destruction by tourism, and already the rot has begun (after all - we were there!)

The many of the roads are little more than a track in the dirt, and wet season makes much of the area inaccessible. We were lucky to be there at the end of the wet season and despite numerous deep muddy pits, we were able to use the unmanned bush border into Kenya, often little more than a faint track in the grass. Then suddenly in the middle of nowhere, a gatepost, and our 19th country...



East Africa