Andrew
Happily settled in South Africa until 2001 when suddenly the travel bug bit! After spending some time working & travelling in and around the UK, took 3 years to see some of the world:

2003 saw an 8-month cross-Asia epic, starting in Istanbul, then zig zagging though Iran, Afghanistan, Pakistan & into China.

2004/2005 was 2 years of overland work & travel in South America, driving a large blue overland expedition truck through most of Latin America.

In May 2006 I returned to the UK, where the saving started in earnest for this trip.



Jaye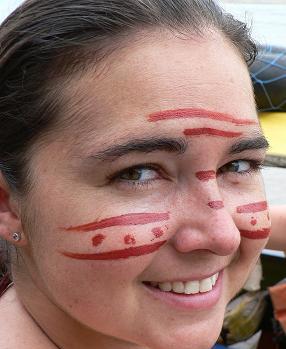 Jaye is an Aussie, who spent 6 years in Japan before making a hard decision to leave a life she knew well & loved. After leaving she found herself in South America, visiting a friend of hers who worked as a tour leader on a big blue overland truck. This is where the two of us first met.

After meeting up 7 months later in London, the Africa trip was born!

Jaye however first had other plans: she and a friend travelled China, Tibet, Nepal & India for 3 months. She swears that this trip - 2 girls travelling together - was ample preparation for travelling in a muslim country as a woman....

Jaye then returned to the UK for 2 months for final preparation for the Africa trip.