Middle East (Turkey, Syria, Jordan)
NOTE to other overlanders: All the important stuff summarised on my "Trip_Facts" sheet
TURKEY
Before leaving Greece, we filled Priscilla's tanks: Turkey has the most expensive diesel since the UK! (€1.20). Leaving Greece & the EU was easy enough: A stamp in the passport. The customs man just waved us through. Then over the bridge we went, leaving the EU behind...
From now every country will require us to purchase 3rd party insurance at their border of entry. There is no single policy available to cover most countries. This was easily (but not cheaply) bought. We were stamped into Turkey without a hitch. When it came to customs all seemed to be going fine until he tried to enter my passport details into his computer. South Africa apparently does not exist on the Turkish customs database... Well the solution was easy for him - "wait". Aaahhh... training for Africa I guess.
Our first visit was to Gallipoli, a World War 1 site of particular interest to Aussies & Kiwis. Here we saw a sign to a hilltop location marked "rough track 1km". So up we went. It wasn't steep, nor particularly rough, but was coated in a thin paste of "stick-to-the-bottom-of-your-shoe" mud. Soon our tyres were an inch bigger all round and we were sliding everywhere. Within 5 minutes we found ourselves sliding sideways towards the edge. So out came the straps and a large amount of bush was thrown under the wheels. Upon reaching the top Priscilla was a sight to behold!!!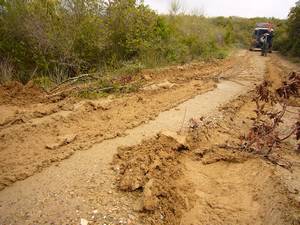 ---

We spent 3 days in Istanbul. On my first visit to Turkey, 4 years before, I loved it. This time the experience was totally different. It seemed everybody was out there to fleece every cent from the tourists. We unfortunately arrived on Easter weekend without realising. Accommodation was a headache, and we paid a fortune for a dump. We did some work on Priscilla, finishing up fitting our storage box on the roof. Susi arrives from SA, and I left her and Jaye to explore while I went searching for a new spare tyre. Thanks to Geoff for a hot tip - visiting the cistern in Sultanahmet was the highlight of our visit.

Once we hit the countryside things improved. People we geniunely friendly and helpfull. People actually NOTICE a Landrover covered in mud with expedition equipment. They wave, smile and stare. Mostly they invite you to tea... In the EU nobody batted an eyelid. I don't think they have the time.

The girls are treated to a cuppa while I visit Michelin...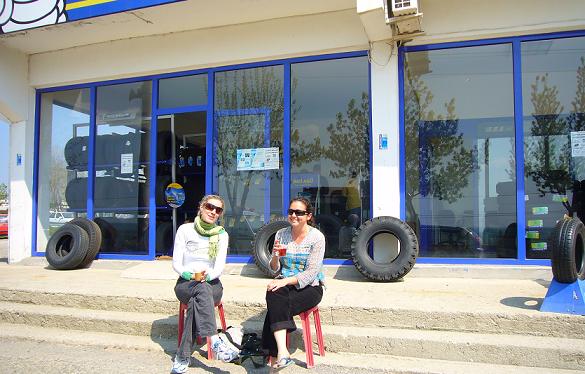 We drove around the Western coast visiting:
- Assos (a great tip from an American we met)
- Ephusus (more below)
- Oludeniz (the most famous beach in Turkey)
- Olympus (Tree-houses and the Chimeara (eternal flames))
- Mersin (where??)
- Cappadoccia
- Mt Nemrut
I visited Ephesus previously and did not enjoy it (bad experience). However this visit was on of the highlights of my trip. Potential visitors take note:
TOP TIP
Ephusus is a ruin from Roman times. My history is terrible so I won't continue. However the site has a reconstructed facade of a library which for my money is most detailed "ruin" I have seen (until then... read "Syria"). It also has a huge atmospheric amphitheatre. Usually these are swamped in visitors.
Thus we decided to go early. When we arrived for the 8am opening, I realised we had come to the bottom gate. Usually people enter the top gate and walk down the hill, leaving the 2 "highlights" - the library and amphitheatre until last. So we walked in and found ourselves alone for 40 mins amongst some of the most fantastic historical sights we have visited. As we left the grand library, a sea of tour groups descended on the place from the upper gate and all atmosphere was lost. So if you ever visit Ephesus, remember my tip:
Get there at 8am, and use the entrance on road from Selcuk to the coast!!
Top gate views (right)
... and bottom gate views (below)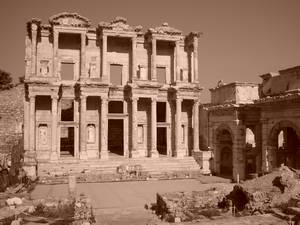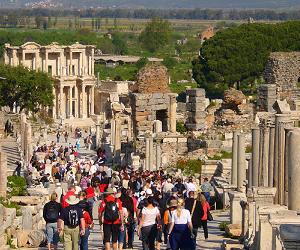 ---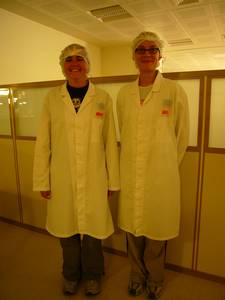 Jaye and Susi: Crisp Inspectors

In Jan/Feb 2007 I spent 5 weeks installing a crisp production line in an industrial suburb near Mersin in Southern Turkey. I left before the line was commissioned, so had never seen it run. So a visit was definitely required. Jaye was also interested to see what had kept me busy (and make sure there really WAS a factory, and not a Turkish girlfriend!)

My ex-boss Geoff was still on-site so he took the girls on a tour, while I looked around. The upshot of the visit was that we were able to take advantage of the amazing corporate discount offered at the Hilton Hotel in Mersin, and enjoy dinner compliments of Geoff!!

Aaaaaahhhh what a wonderfull break after weeks of camping and budget hotels.


---
We then backtracked about 300km to Cappadoccia region. Outside of the Goreme N.P. there are large open areas of land with tracks criss-crossing. Many take you to interesting hidden gorges with fantastic rock formations... (Try the canyon heading North from a place called Cat).

We were unhappy when it started snowing, but seeing Cappadoccia under a blanket of snow certainly made the 2nd visit worthwhile.

---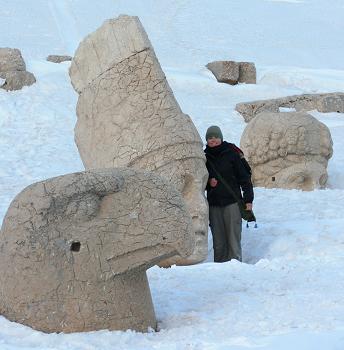 NEMRUT From there to another classic Turkish sight: Mt Nemrut. This mountain is hard to visit without your own transport, so most people go there as part of a tour. Once again we were early in the season, so were wondering if it would be possible to reach, as most of the flat land on our way there was covered in snow. However after an 8hr drive, we reached the summit parking area, only 400m from the 2100m summit.

An obscure mountaintop chosen by an ancient king to build a monument. Most guide books reccomend visiting for sunrise, and from past experience, I can attest that even in summer, it is FREEZING at 6am! So instead we headed straight up for sunset. We were the ONLY people there!!! What can I say: go OUT OF SEASON and do the OPPOSITE to what is recommended in the guidebook!!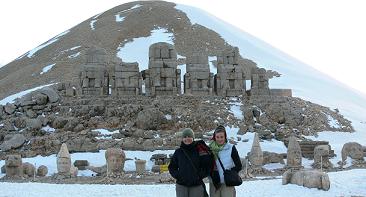 The road down the mountain is STEEP, so I was being cautious to use minimal brakes (mostly 2nd gear). However I noticed my brake pedal getting closer and closer to the floor. Soon only pumping the pedal was of any use, so I pulled over. It felt as if there was a leak in the system somewhere. The discs were hot, but seemed within normal heating. While I was looking, a local pulled up to help. Without pausing, he grabbed a bottle of water and poured it all over my brakes. I tried to explain that was not simply brake fade, but a leak in the system, but he continued without pause, filling up the bottle in a stream alongside.
Well sure enough, after a few minutes, my brake pedal regained pressure. Well there you go! I have no scientific explanation for the loss of pressure, but I learned something new that day...

---

SYRIAN BORDER From there off to the Syrian border. First aborted visits to Sanliurfa (Urfa) (Looked dull) and Haran (the worlds pushiest touts who followed us by car and motorbike for the 5mins it took us to leave). We arrived at Akacale and were immediately pushed to the front of the queue of locals by the guards. Now there are advantages and disadvantages to using a small quiet, little used border.

Some borders are not equipped or even allowed to process foreigners, esp their vehicles. Foreign currency exchange can be a problem, and also language (These are the bad points btw)
However you can turn out to be something of a focus of interest: Officials push aside the "usual boring locals" to spend quality time with an interesting case... You will also not get hassled by the usual touts awaiting foreigners.

At Akacale, we enjoyed all the advantages mentioned above, without experiencing any of the disadvantages. It was a very relaxing experience. That said, the border took us approx 2hrs to clear. Of course the fact the the girls were treated to tea with the immigration officials at both borders probably didn't help!

However I think this is pretty normal, and we enjoyed the experience. Not speaking a word of Arabic (Syriais our first Arabic country) is never a problem - you are always surrounded by an eager bunch of potential translators... People simply shepherd you from one place to the next.

The Syrian border is 1.8m from the Turkey border. They are little more than 2 sliding gates facing each other seperating 2 courtyards... We had our car dis-infected, then I was pushed from one place to the next collecting insurance, paying diesel taxes getting documents stamped and the rest. You generally end up with a handfull of papers which are slowly distributed to various officials!

Entering Syria, you are required to pay a "diesel tax" of US$100 for every week you are in the country. One guy repeately asked me "Are you SURE it is a diesel and not Kero?". I have a feeling that he was suggesting I lie in order to avoid paying the tax. Upon entering & exiting, nobody checked, so I might have saved myself US$100, but I'm not sure it was worth the risk!

At immigration down the road, an immigration officer made VERY SURE we understood that the US$100 diesel tax was valid for ONE WEEK ONLY. If we left Syria on our 8th day, we would have to pay for another week, US$100. No excuses accepted... Diesel in Syria is only US$0.14 / litre, so the week's tax pushed the average fuel price to US$0.55/litre after filling up twice.

SYRIA
Before arriving in Syria, I would struggle to define the country, and after leaving - I still do, but I loved the trip!! A good summary would simply be: RUINS, Markets, RUINS, Markets, RUINS.

We visited:
- Alleppo
- Qal'aat Samaan (St Simeon's)
- The Dead City of Serjilla
- Palmyra
- Damascus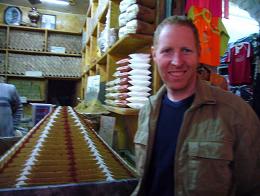 Our first stop was in Alleppo, a city with a famous covered bazaar (known as Souks). The bazaar was worth the visit, a non-touristy version of the Grand Bazaar in Istanbul. However the girls were fairly harrassed. It is a conservative city, but the attention was often oppressive, even though they covered up to their chins!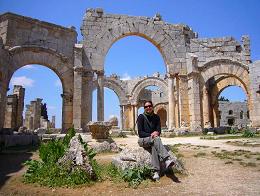 Qal'aat Samaan is a ruined monument to St Simeon, a crazy guy who spent 30 years sitting on pillars. The ruins are set on a quiet hilltop with stunning views. We were expecting little, but the site is wonderfully atmospheric. This stitched 360deg shot didn't quite work, but is pretty fun.



We had heard about so-called "dead cities" - abandoned hundreds of years ago. Of these, Serjilla is reputed to be the best. Well these cities, are little more than small ruined villages, but all extremely old, and many ruins in very good state of repair. The are to be seen dotted all over this area. You may have to pay to get into Serjilla (the guy arrived as we left) - but many others seen from the road looked as interesting and could be visited for free.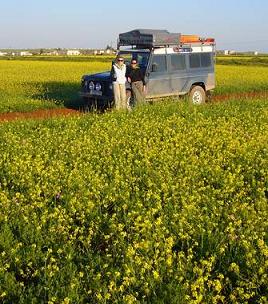 From here we drove East, across the country through the flat cutivated lands, heading into the desert & towards Syria's biggest single attraction, Palmyra - a 2000 year old ruined city. We free-camped overnight in an open plain. While we were cooking a motorbike tukked past us in the dark, along the barely visible track we had followed. Suprisingly he didn't stop or even pause. However as we were eating dinner, a farm truck arrived and the two occupants spent 5 mins unsuccesfully trying to invite us to stay at their place, while we poured coke for them, before heading back
Another half hour later and another truck arrived this time with an extrememly enthusiastic, (broken) english speaking guy. He was extremely keen to have us come back and stay with him, a typical Arab hospitality. The girls were both nervous after their experiences in Alleppo, so we were happy in our field. He could hardly be dissuaded, but eventually after a cup of tea, and a tour of our very comfy roof-tent he gave up and wished us goodnight.

The roads in Syria rarely seemed to bare any resemblence to our maps, and as we headed more East than South on one particularly endless stretch, I started to get a feeling we were heading the wrong way...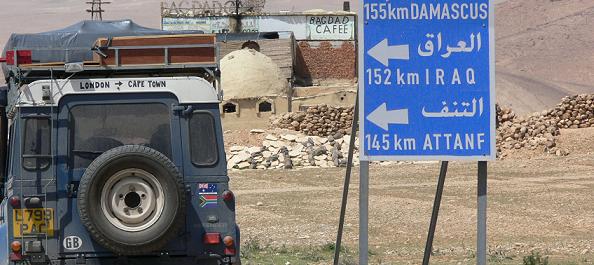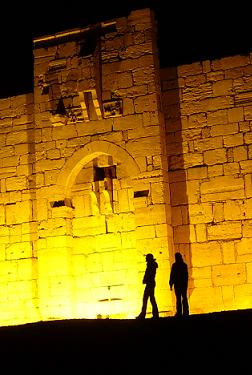 Palmyra suddenly appears before you, larger and more impressive than you could have imagined. Both the scale of the city and the size of the buildings take you by suprise. Most of the site is unfenced. The locals ride motorbikes around and climb on the ruins. I have mixed feelings about this - is it better to fence them off and turn them into some sort of a freak show, or leave them open to be what they are: ruins in the desert, like they have been for 2000 years...
When I look at this site, I find myself laughing at ourselves and the millions who visit the sites of Athens. The acropolis looks like a village outhouse compared to this place. In addition the Greeks' management of the site made the entire visit unpleasant (see my rant on Europe photos page). We walked through the ruins by night, the only people in the huge complex.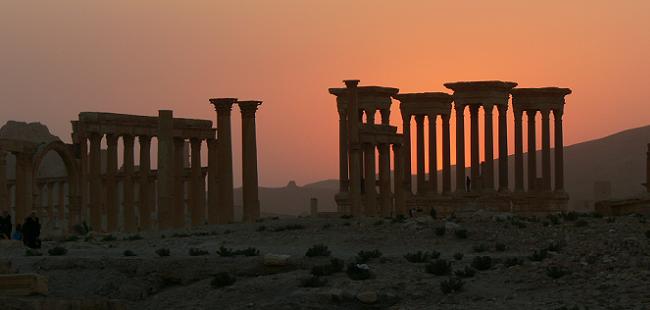 Typical Syrian country transport!!

From here we were off to Damascus. We debated what there was was to see, considering skipping it altogether. We felt a bit 'ruined out', so were not interested in more historical sites. In the end we felt it would be a bit much to skip a city as significant as this.
After 3 laps of the center, finding & checking into our hotel with it's lovely sheltered courtyard, we knew we had done the right thing. Damascus, unlike most capitals has a laid-back, relaxed feel, and wandering the streets and markets was just the antidote we needed to our aversion to large cities, after crazy Alleppo.

JORDAN BORDER And so it was South toward to Jordan. Once again we chose the quieter border, just south of Dara'a. No problems exiting Syria, stamp on Carnet and in passports. And then over the hill to the Jordanian side.
Here we were greeted by a huge queue of taxi's, perhaps 400, all waiting to enter Jordan. However the all waved us past and to the front of the queue. It was Jaye who noticed that they were Syrian registered, Jordanian taxi's. We surmised they all use cheap Syrian fuel, and are registered there to avoid the tax on fuel!
It took about 2hrs to get through the border. As with most borders - just be patient and things get done eventually. But this was pretty easy, and we were done!
JORDAN
We had 4 nights before Susi flew out of Amman airport. Amman is the logical 1st stop in the North of Jordan, but we would obviously have to return later. So our 1st stop was Jerash, an hour from the border, site of an impressive ruin of a Roman City.
We peered through the fence at Jerash, and realised that if we had a week's holiday from work in Jordan, this would be the highlight, but having just seen Palmyra, Qal'aat Samaan, Ephesus and more, we were ruined-out. So we just kept driving and found somewhere to camp.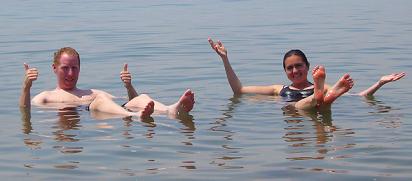 We had originally hoped to spend a day relaxing at the Dead Sea, but when we arrived, we realised this was impractical, impossible and quite simply not going to happen. The entire coast is totally barren, highly militarised, and simply unattractive. We went to one of 2 "beaches" to tick off our Dead Sea box, and were on our way within the hour... The beaches are ugly, stony & polluted. The salty sea is great for the photo, but otherwise pretty unpleasant for more than a few minutes, as everything starts to sting!!! I made the mistake of putting my head under the water and was sent blindly running for the showers: eyes, nose and mouth stinging.
South Africans and Australians are both extremely spoilt - most of our beaches are far superior to any of the famous beaches we have looked forward to and visited on our trip.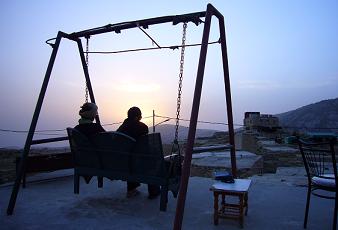 Jaye found an interesting-sounding nature reserve en-route to Petra. Dana Wildlife Reserve, or more specifically Dana Village, is spectacularly set at the lip of a deep canyon, the perfect place to watch the sun sinking over the Jordan Valley. Our rooms at Dana Hotel were perfect, the food was excellent and both nights we were treated to locals dancing to local musicians...

One could spend 2-3 days exploring the huge & impressive site of Petra, but the main attractions including the famous treasurery fitted perfectly into a day. It truly is one of the world's great wonders.
Then back to Amman. We were not in the city long enough to get a feel for the place, but it certainly seems that the modern and traditional meet in this city. After 3 weeks it was time to say goodbye to our guest Susi. It was wonderfull to have shared our Middle East experiences with a friend from home, and we are both looking forward to more visitors!!

Wadi Rum is an area of impressive desert scenery in southern Jordan. It was the first time Priscilla got a taste of deep sand. We soon learnt how heavy the car is and just what we can or can't do. Our camp below towering cliffs, looking out into the desert was the quietest spot I have experienced for years.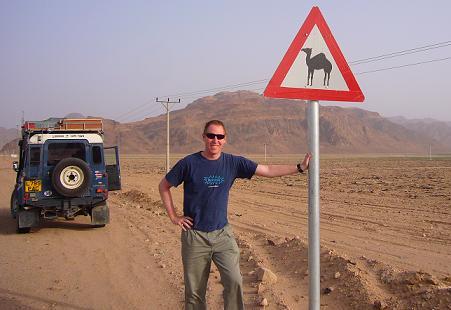 And so on to Aqaba, the port of departure for the Ferry to Nuweiba, Egypt. We had both been nervous about the trip to Egypt: Egyptian customs are reputed to be the most difficult of the trip, perhaps the world! There were 2 ferries: midday (approx) and midnight (approx). We arrived at midnight for check-in, and by 1am were ready to board. At 5am we were finally ushered on-board, and just before 7am we were underway.
Arriving in Nuweiba we made our way to customs with much trepidation. Eventually a "tourist police" officer, Ashraf, approached and walked me through the system. Every time I re-appeared at the car, Jaye would be beaming, waving another piece of paper or signature that she had collected in my abscence. It seemed that each time she was left alone in the car somebody would come and perform another one of the endless procedures as an excuse to talk to her.
Amazingly we were done in about 2.5hrs! I was trying to make note of each step of the procedure, but gave up after 10...
Finally we were in Egypt, and on the African continent!!!