Europe (U.K. - Greece)
Sun 1 Apr 2007
We left London a month ago today. Since leaving we have had almost non-stop rain, wind and cold. Barcelona was sunny, but only for 2 days. We have raced through Europe after the elusive sun, which according to 5-day weather forecasts is travelling 2 days ahead of us on the same route.
So finally we have stopped in Greece, at a gorgeous deserted campsite by a secluded beach, and decided to wait. Eventually the sun will shine.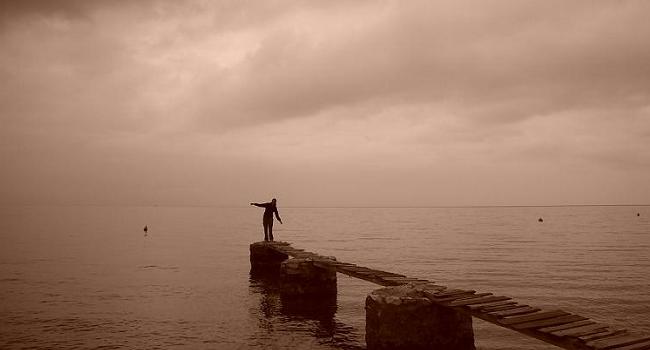 ---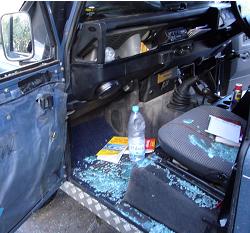 Wed 21 Mar 2007: Break-In
I had heard from many people about the convenient rest stops along the motorways in France. So after a long day's drive we pulled up alongside a camper and put up our roof tent. In the morning we woke to the sight of a smashed passenger window!!

After a short panic, we discovered that it was a smash-and-grab job and a small bag that had been left in the front was the only thing missing. Listed contents:
- some tissues
- roll of brown tape
- tube of lip-balm

We will miss the lip balm, but seriously - we were very lucky. Behind the seat under a pillow was a laptop and in the dashboard a camera. Of course it was our own fault - leaving something that looked tempting in the car. The biggest inconvenience was trying to replace a Landrover window in France. We had been told it would take 3-4days, but after 24hrs in Nice we had our new window and were ready to go!!


---
Thu 8 Mar 2007
Visiting the "Fairy Tale" castle of Bavaria - Neuschwanstein Castle.





---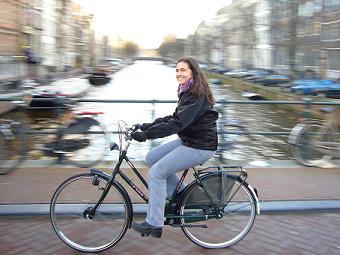 Sat 3 Mar 2007
First stop: staying with a friend in Amsterdam.





---

Thu 1 Mar 2007
Jaye & I leave for London on 1 March 2007, bound for Cape Town, 6-9 months ahead.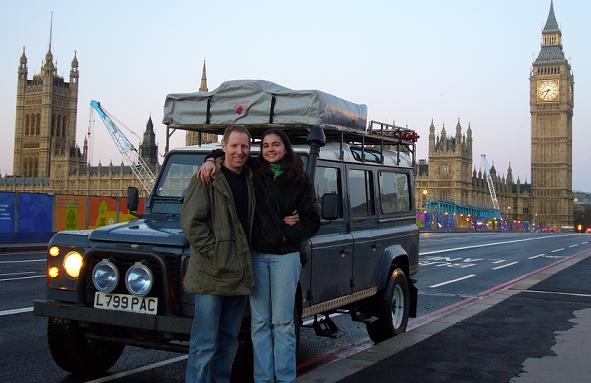 Sat 28 Feb 2007
We called today "Day 0". We packed the car with all our gear. Anything left in my room was either thrown in the bin, or taken to a charity shop.
I had underestimated the weight of all our kit, and it was obvious the rear springs were overloaded. Luckily it was only a short drive to Kent to stay with friends on the eve of our departure. So on Day 0 we had a new set of heavy duty rear springs and shocks fitted.
We were ready to go.

Tue 27 Feb 2007
So the ferry is booked for 1 March!! We will be staying with friends in Kent tmrw night, then get an early Ferry from Dover to Calais. Even though it would have been easier to leave from Harwich to Hoek of Holland, we felt the Dover ferry was a more traditional way of leaving the country...

Fri 23 Feb 2007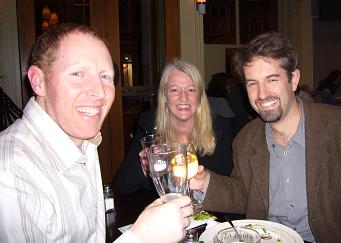 We are now hoping for a 27th departure. Lots of work to do over this weekend. The dreaded fuel tank must be installed. Also hopefully the tent will go on without problems. The roofrack is now modified and ready for the tent.
Myself, Sarah & Mark at our leaving party.

Mon 19 Feb 2007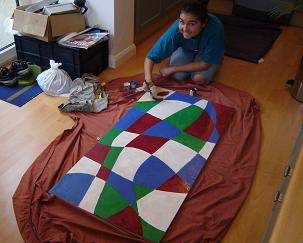 HOORAY - Last day of work, now I am finished and can concentrate on getting Priscilla ready. Busy week ahead. We have our leaving party tmrw night in London. Then on Wednesday we pick up our roofrack. It will need the front rail cut down to accomodate the tent.
Jaye is painting our camping table.
(So now you know Barry!)


Mon 12 Feb 2007
I am back from Turkey (for work) for the last time. Jaye should still have been in London at the medical trial for another 2 weeks, but has decided to leave the trial. This means we can now work together for the next 10-14days getting Priscilla ready for departure.
Mon 12 Feb 2007

WOW - what a fantastic morning for a snow loving saffer! Opened the curtains to see poor Priscilla shivvvvering outside. Today I am off to Turkey for the last time, for a long weekend to finish my installation for work!


-------------- LONG GAP! --------------

Sun 22 Oct 2006
Before it started raining, I managed to get a small amount of wiring work done: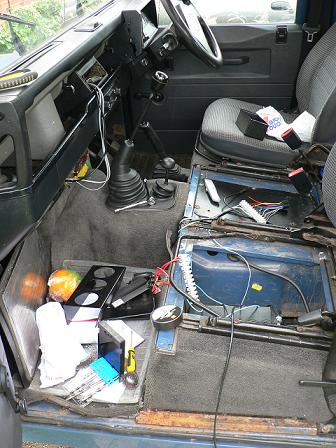 Above you will see that the battery box is located under the passenger seat. The next job is to install a 2nd battery. At the same time I will install an inverter (for 220v power).

In the meantime I have been preparing some wiring for the new stereo location (in a secure cubby box between front seats) and a new fuse & distribution board for new electric equipment (stereo, fridge, inverter, drill, extra lights).

Yes it's a mess. But it is a work in progress....



Sun 15 Oct 2006
Another Sunday hard at work. Below is me fitting the obligatory aluminium wheel arch capping.



Sun 24 Sep 2006