15 Aug 2006 - The Great Outdoors?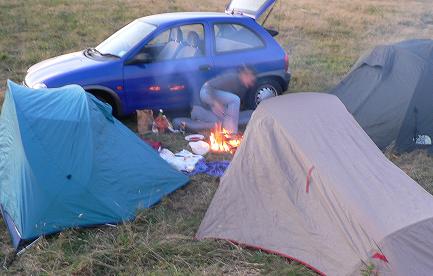 Camping in the UK is not exactly the same experience that I have got used to in South America or elsewhere.
Picture it above - enjoying the wide open spaces of the coutryside around a campfire with a few friends under the nightsky...
...Or perhaps zoom out slightly and see the reality of "wilderness" camping here :(
---
13 July 2006 - Free Music & my Favourite Clothes?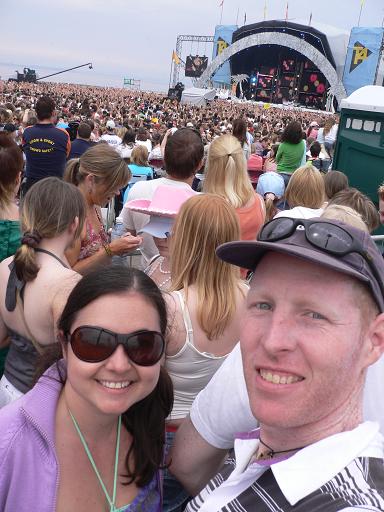 Jaye has been rather lucky in the last few weeks, winning tickets to TWO large UK music festivals, 2 weeks apart.
The first was "T4 on the Beach" - on the beach near Bristol, average age of the 30,000 fans was about 14. We were lucky with VIP tickets, only metres from the stage - the main attraction - the Pet Shop Boys.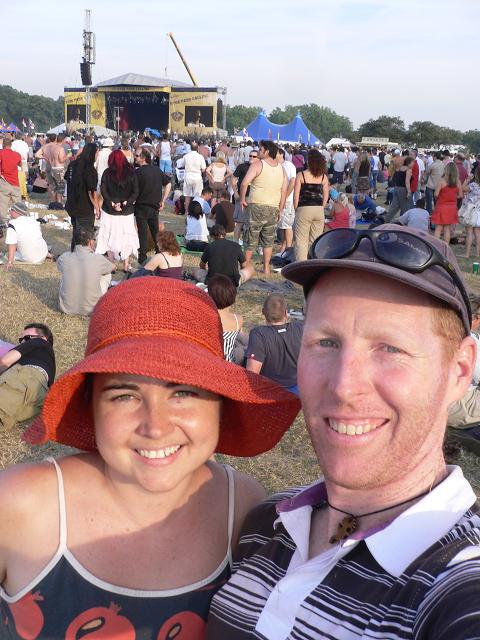 The second was "Hyde Park Calling" - a huge event in London, with "The Who" headlining. Average age 35?
Now based on my outfit, you may be forgiven for assuming that these photos were taken on the same day, at different locations with different girls.
Unfortunately the fact is that concerts were 2 weeks apart and I seem to have developed a fondness for 1 particular shirt?

---
20 June 2006 - No Time
I went into the SA Embassy in London a few weeks ago to apply for a new passport. There was a poster on the wall with a list of about 100 things that people miss about SA... The last one on the list was "In South Africa you would have time to read this".
I decided I would add it to my blog that same evening, because it certainly seemed true.
As I said before: this was a few weeks ago... Case in point!


---
5 June 2006 - Home
Amazingly it has been a month since I arrived and I have already received 3 pay cheques! (OK - I'm paid weekly).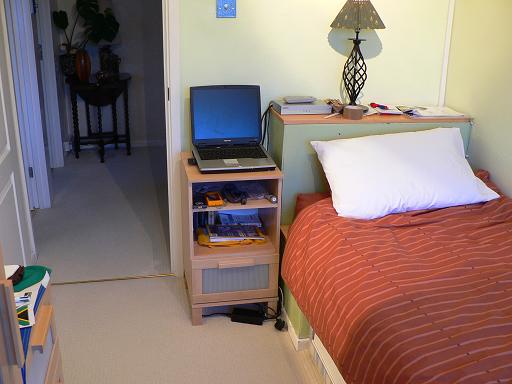 I thought I would share the highlight of my month - moving into a room, where I can stay for more than 3 nights. In fact for the first time in 3 years, I have unpacked all my stuff from my backpack. It was a wonderfull feeling


I am renting a spare room in a guy's house in a village called Biggleswade, 15mins from my work. I proudly found my SA flag and am now looking for an appropriate place to put it, although it is still visibly displayed! My car also sports a big SA flag sticker on the back.


---
29 May 2006 - Potato

So here I am back in the UK. I didn't know what I would do when I finished up with the "big blue truck". But if you looked in a crystal ball, you would see more adventures in my future, and they need financing.

So here I am in the countryside, working on the design and installation of a new crisp line, near Manchester. Today was my first visit to an existing site, to see one of our production lines operating, and what a sight!!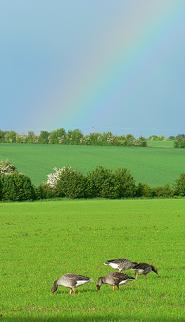 Just imagine you are a poor potato, floating along gently in the current with the other potatoes, when suddenly your life changed forever. In the next 8-12mins you will scrubed, peeled, sliced, fried, seasoned & packaged. But not only you - 50,000 of your closest friends too, or 3.5tons!!
So you do have to wonder, how when ONE line can make 20 packets every SECOND, why there are around 25 of these lines in the UK!!! I'm not complaining though - the appetite of the English for the humble potato crisp, is going to put me on the road home again...


---
2 May 2006 - Occelot
So I'm in Salta, in Northern Argentina, killing time really. Discovered that the hostal I was staying at had over 200 DVD's, NONE of which I had seen!! (when did that ever happen to you?)
So I picked one I have been wanting to see for AGES - "The Island". Good movie. The next morning I found myself sitting on the bus to Buenos Aires next to an Austrian girl who had also stayed at the hostal, but decided not to watch the movie.
In due course she offered to show me some photos. If I was expecting the usual shots of Machu Picchu, the salt flats or more, then I was waaay off the mark.
"This is a picture of me castrating an occelot."
"This is a picture of the castration..."
I laughed at her, telling her she was the most original person I had met in a long time. She was a wildlife volunteer in Bolivia. But she had the last laugh: the movie on the bus was "The Island".


---
27 April 2006 - Goodbye Blue Truck (part II)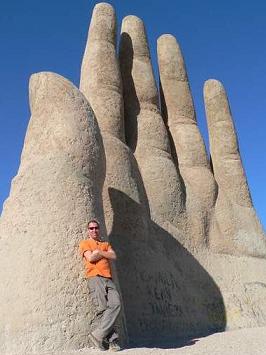 So FINALLY (and for the second time) I have packed all my stuff into my backpack (again) and have waved goodbye to the big blue truck for the last time.
So what lies ahead? You probably know no better than me!! Keep watching this space...


---
13 April 2006 - Hard at Work
After a break in Brasil, I was back to work for a while, this time as a tour leader. I am taking a truck back around Patagonia, helping train the new crew. Here I am in Bariloche in Argentina, hard at work...


---
24 March 2006 - Brasil Cocktails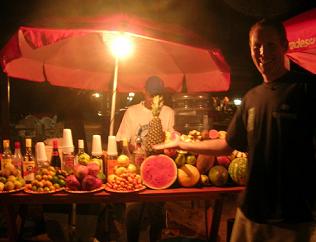 Spent 3 weeks relaxing on the coast of Brasil. The highlight of this time was the beach cocktails. Every night hundreds of stands would appear, all offering the same basic cocktails.
The stands are decorated with bottles of spirits, mainly Vodka and Cacasa "51", Brasil's local spirit. In addition, creative displays of a huge variety of tropical fruit, many of which hopefully will end up in your drink. Below is a typical recipe!!!

To a blender add:
1 cup of ice
2 passion fruit (only seeds)
2 slices of pineapple
2 guavas (whole)
100ml condensed milk Blend for 30 seconds. Then pour through a fine sieve, and BINGO!!



---


3 March 2006 - RIO CARNIVAL!!!!!

This was my 2nd Rio carnival, and it was the 1st that made me decide to stay on for this one!! This one made me decide that this is one event that EVERYBODY should see at least once in their lifetime.

The Sambadrome parades are without doubt the biggest, most elaborate show you will EVER see. I am already planning to be back next year.
Every dancer (of the 30,000 of them) wears an outfit more elaborate than any your will see in any procession. The floats (and there are about 100 of them) are the most colourfull, intricate, creative and awe-inspiring creations you could ever imagine. I am at a loss to describe the event properly, except to say - GO!!

Away from the main events are hundreds of street parades and bands that keep the atmosphere lively for all 4 days of carnival. For these 4 days you will not find time to sleep, read or eat - there is so much to see and do!



---


28 February 2006
Last thoughts as the driver of my big blue truck. As I finish up in Rio, just a bit of as to what exactl life on the road was all about...

DAY 1: A DRIVE IN PERU
Up at 6am at my hotel, grab a taxi for the 20min drive to the truck park across town. Pay US$1 for the ride!! Then head back to the hotel, arriving as everybody is starting breakfast and get my stuff packed in.
10mins before departure start running around looking for the passenger who hasn't turned up for breakfast. As usual - dozed through their alarm. On the road at last, getting out of town as quickly as possible by bulldozing throught all the taxis. Size is a help here as they get out of your way quickly!!

After an hour you are climbing a 40km long pass up to 4500m when you are stopped at a random police check in the midle of nowhere. Policeman starts fishing for a bribe, saying your insurance isn't valid or something. This is where my tour leader asks all the girls to start smiling at him out of the window. Pretty soon he has forgotten what he was saying and you thank him politely and grab your licence back (It was a fake copy anyway in case he gets difficult), thank him and drive off.

Lunch is under some trees perhaps with a view over a lake or a village, in which case the whole village turns out to stare at you as you prepare a feast...
The afternoon drive will go quickly, as will full tummies, the pax are all asleep. Arrive at our campsite in the afternoon, setup and then most people will head into town for a look. I will check around the truck and fix any little things that have come up - then probably grab my book for a read under the trees and look forward to dinner...

DAY 2: A DRIVE IN BRASIL
Well a typical day may start by waking 10 mins before all pax, then putting on some nice relaxing morning wake-up music to stir them all from sleep. Go around to all tents, and check everybody is up. Get some water on for coffee.

Start an early drive, perhaps 7am, then anything from 6-17hrs driving. On our way stop at one of Brasil's amazing buffet restaurants for lunch, and several times at servo's for yet another ice-cream and cold coke to ward off the stifling 34deg heat. Arriving at a small shop that is our transfer point, drop all passengers, park truck safely at a farmhouse, then everybody into jeeps for our 3 day trip into the Wetlands. No real work here, only hammocks, mozzies and sunsets for 3 more days :)

DAY 3: AN "OFF-DAY" IN BRASIL
Today is excursion day, say to Iguazu Falls. After breakfast take the group to the N.P. Entrance where some of them decide to do the helicopter ride over the falls. Good news - enough of them ride that they give us a freebie. So I get my 2nd trip over the falls....

What a feeling flying over the Amazon forest below with one of the worlds greatest wonders roaring far below. I love this life!!

Then into town to get the truck washed and serviced. It is never this easy though. A simple wash always takes a whole morning, and the rest of the day to do the service. Rush back to pick up passengers and transfer some to the campsite and take the rest into town to the bank, or shopping for food for the next 2 days. Arrive back for sunset in the pool, samba music playing, a capirihnia in one hand, and plenty of friends....





---


10 February 2006
I am now at Iguazu Falls, at the borders of Brasil, Paraguay and Argentina. I think this must be the best place ever:
1) Argentina has the most beautifull women and best steaks in the world.
2) Over the bridge to Paraguay is boy heaven - the cheapest, biggest electronics shopping extravaganza in the world.
3) Brasil has amazing beaches, jungle, good roads, fantastic food, and of course RIO carnival!!!!



---


3 February 2006
Welcome to my "blog". I suppose I don't like the name blog, cause everybody is doing it. I hope it will be more like an online diary of anecdotes and stories. OK smartasses... I guess that is a blog.

So when you drive for 12hrs at a time, you have plenty of time to think. At the end of most days I have written a list about 20 lines long of things I plan to do. This was point #14 today.

So I drove into Uruguay today on 3hrs of sleep with a 5am departure. It was just me for a change. I drove through pouring rain and dodged trucks, sheep and unmarked speedbump for 634km (Although this in itself is a standard day on the road). I am now 40km from where I started. My passengers will be here tmrw after 2hrs on a ferry.

Try googling "uruguay argentina river pulp mills protesters block borders". That will explain the 5am start. However I think the most important apect of the day is the fact that I am now in the tiny town of Colonia a day ahead of my passengers. (more importantly 40km away from them!!) This is the reason I have managed to have a pretty good hack at the last 20 driving days worth of "to do" lists.

It will get better next time you look. Promise. (please come back!)




---